Clearwater Corn Maze on Facebook
Get updates and follow the progress on our Facebook Page!
Proud Sponsors of the Clearwater Corn Maze
Welcome To Kaufman Family Farms!
Kaufman Farms is located just south of Lewiston, ID and proudly been a family owned farm for over 100 years. It is our honor to carry on the tradition of our farm that the generations before us worked so hard to develop. With our "Family First" attitude there's always work to be done, but there's never a dull moment out on the farm with the next generation close by at all times. We thank you all for your interest in our farm. We are no longer raising sweet corn or running the corn maze. Our family has been busy raising crops of grain and children. :)
Joe, Steve, Phil and Jeff have carried on the farming tradition. Along with the strong support and help of their wives, Kaufman Farms is a
thriving
community member of the greater Lewiston area.


​​
Lewiston is located at the confluence of the Snake River and Clearwater River, thirty miles southeast of the Lower Granite Dam. Because of dams (and their locks) on the Snake and Columbia River, Lewiston is reachable by some ocean-going vessels, which provides us with an international reach with our crops and grains.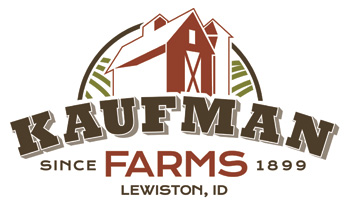 1836 Birch Court Lewiston, ID 83501